How to Enter US Bank Stadium
| | |
| --- | --- |
| | Jun 20, 2017 |
First, be aware that everything can vary at US Bank, depending on the number of people coming in or out on any given day or time.
Please read this post completely as there are many options that can trip you up. This will be especially true on show days, so read on.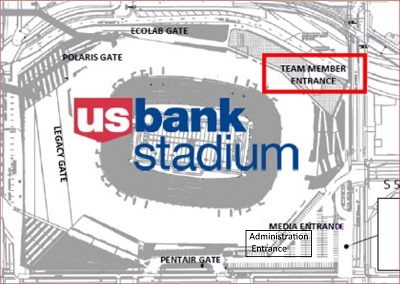 Some calls with climbers or uprigging may require high visibility clothing and hard hats for all stagehands.
If you are more comfortable wearing your own gear, bring it.
Always be early for a call at the stadium.
It may take a while to get to the correct door for that moment, and then through security, but it will always take a while to get to the loading dock or field.
Pay close attention to who your crew chief is (get their phone number if you can) and where you are to meet.
Ask if you should wait at security, or go to the loading dock, or meet on the field?
On a 'typical' day, the preferred Team Member Entrance (between the Verizon and Ecolab gates) will be staffed by security from 'around' 6am until 'around' 5:30pm. (For a concert out, expect them to be open until the concert has finished.)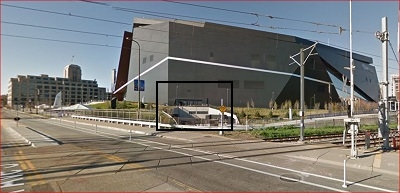 Here you can see the Team Member Entrance from 11 Avenue South.
The gray doors are at the center of the black box, directly above the white concrete loading dock entrance.
Two of the doors have door handles, we enter at the one on the right.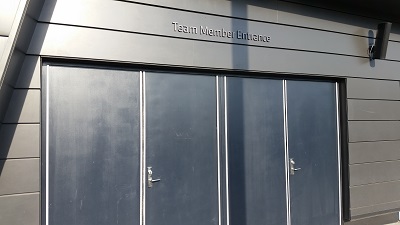 If a door is not propped open, knock politely on the far right door a couple of times.
The security guard may be busy or a few feet from the door, so they may not let you in the moment you knock.
They may be nicer to you if you show a little patience.
Once inside, you'll need to show ID, which is checked against a list. Are you working for SMG that day, or another payroll company? (If you're not on the list, you should first call your crew chief, and if you cannot get them, ask security to call Tadd Wilson (an SMG employee) by radio, who will come to the gate and get you through security.) Worst case and the very last resort, call Tadd yourself at 612-270-9371.
Then you'll do the metal detector thing, you may have to explain that "you need your tools and are required to carry them to do your job".
Finally, walk down the four or five ramps that eventually come out in the loading dock and field.
---
From US Bank, July 25, 2017:
On the day of concerts we will have a fence setup with metal detectors, so workers won't be able to get to the normal "Team Member" entrance without a wrist band.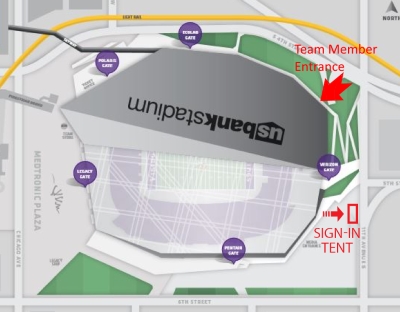 We've setup a tent near the metal detectors for people to check-in and receive that wrist band. This will only be active on show days. Everyone will be able to get to the Team Member entrance on days leading up to show day.
---
If it's a slow day and/or when the Team Member Entrance is not being used.
You will be sent to the Administration Entrance (see diagram at the top). From the Team Entrance, just walk clockwise around the building, down the stairs outside the public entrance, and follow around the building between the iron fence parking lot and building. Go past the Media Entrance, to get to the Administration Entrance.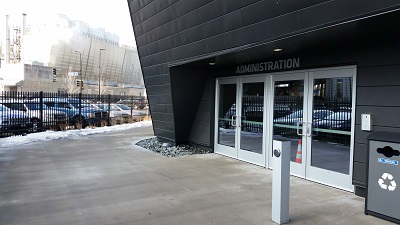 Same ID, list check, and metal detectors. When you 'pass' security, take a right through some double doors and you'll find an elevator on your left. Take it to '-2', which is field level. Walk out of the elevator, hang a right, and you'll be at the loading dock.