How to Enter Xcel Energy Center
| | |
| --- | --- |
| | Jul 27, 2017 |
Xcel Energy Center Arena is located at 199 W Kellogg Blvd, St Paul, MN 55102
The 'stagedoor' is through the main public entrance at Gate #1 (the Southeast Gate).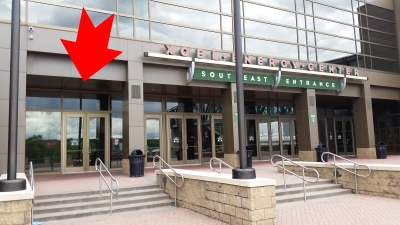 Enter at the far left doors and go straight ahead to the security desk, which is at the far left end of the public entrances.
Security works off a list from the call stewards. Be prepared to identify yourself (knowing your list number helps them find you faster), show ID, and go through a magnetometer.
You will be expected to wear a provided wristband. If necessary, explain that you need your tools for work.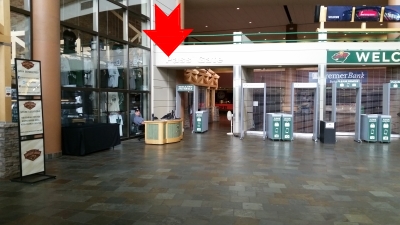 If you are there for a load in, you can probably walk straight ahead and take the steps down to the arena floor.
Then walk to your right, through where the seats have been removed, and once off the arena floor, again turn to your right and find the crowd. You will be far backstage left. Ask where you check in.
If you are there for a load out, after you clear security, take a right and walk till you see the ceiling sign below.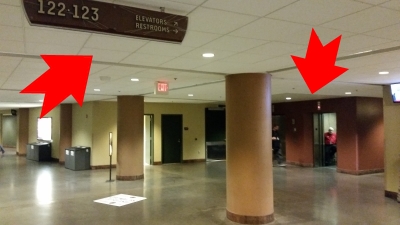 Take either of these two elevators to the arena. The operators will be checking for your wristband.
Leaving the elevator walk straight out, and once backstage, turn left and walk to the check in area, again far backstage left.)
(You will be crossing backstage and, during a show, security will not allow you to loiter there.)
Be professional. Get checked in there (or you will not be paid) and stay near the check in area until given further instructions.